Carolina Chowdown: A Local Food Feast returns for a seventh year.
Please join us for a menu of spring favorites featuring the best in local food!
Date: Thursday, September 21, 2017
Time: 11 a.m. - 2 p.m.
Location: Rivers Street Cafe in Roess Dining Hall
Menus
Homestyle Classics
Chicken Pot Pie (L)
Thai Curry Pork (L)
Grilled Salmon (GF)
Roasted Potatoes (L) (V+) (GF)
Fresh Kale (L) (V+) (GF)
Stewed Apples (L) (V+) (GF)
Coconut Rice (V+) (GF)
Rivers Street Grille
Blue Ridge Burger or Cheeseburger (L) (available daily)
Turkey Burger (L) (available daily)
Grilled Chicken Sandwich (L) (available daily)
Healthy Select
Thai Curry Tofu (L) (V+)
Acorn Squash (L) (V+) (GF)
Fresh Market Salad Bar
Baked Sweet Potatoes (L) (V+) (available daily)
Tofu (L) (V+) (GF) (available daily)
Dessert
For dessert, Food Services will offer an apple stack cake made with local apples. The stack cake is a traditional Appalachia region dessert featuring apples and thinly sliced layers of cake.

(L) Local | (GF) Gluten Friendly | (V) Vegetarian | (V+) Vegan

*While supplies last. All items priced individually
Our Local Partners
Apples: Parker Orchard, Moravian Falls, NC
Kale: Robertsons Farm, Greenville, SC
Chicken: Pilgrim's Pride, Various locations, NC, SC & GA
Sweet Potatoes: Godwin Produce Company, Dunn, NC
Turkey Burger: Chef's Line, Garner, NC
What is "Local?"
Appalachian Grown™ products
Got to Be NC / Goodness Grows in NC products
NC products
Regional products (grown and produced within 250 miles of Appalachian)
Third-party certified products
Click here to learn more about local food at Appalachian.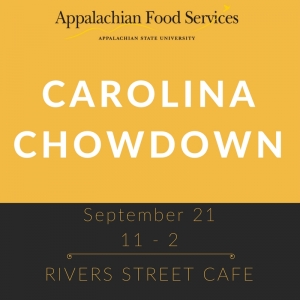 Tags: