The Central Dining Hall has a new name: the Roess Dining Hall, named for Appalachian State University Board of Trustees member and university benefactor Alice G. Roess of Blowing Rock, was dedicated on Thursday, March 27, 2014.Appstate students, faculty and staff as well as Chancellor Peacock and Chancellor-elect Everts were on hand for the dedication ceremony.
Roess, a long-time community volunteer and philanthropist, has been a strong supporter of Appalachian since she moved to the area from Florida in 2008, serving two terms on the Board of Trustees and serving on the recent Chancellor Search Committee. She received an honorary Doctor of Humane Letters from Appalachian's Walker College of Business in May 2011.
Roess was presented with an apron from Appalachian's student body president and a chef's hat from Chancellor Peacock. Read about Dr. Roess and her commitment to Appalachian on the plaque bearing her name at the entrance to Rivers Street Cafe.
Click here to read the official university press release.
Roess Dining Hall Dedication Ceremony ~ March 27, 2014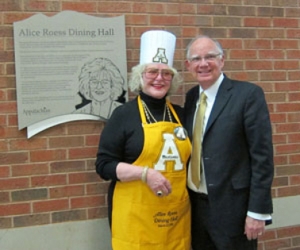 Tags: