Almost every day around 11 a.m., the Hunger and Health Coalition van parks at the Roess Dining Hall loading dock, and a volunteer from the organization collects unused food items from Food Services to take back and serve to the organization's clients.
Food Services and Hunger and Health Coalition are long standing partners in a food recovery program that targets Food Services sustainability goals and assists in the meal supply to the Hunger and Health Coalition's Food Recovery Kitchen.
From 2016-17 Food Services donated 13,264 pounds of food to the Hunger and Health Coalition Food Recovery Kitchen. That equates to 13,264 meals for the Hunger and Health Coalition's clients and their families.
In July, the Hunger and Health Coalition presented Food Services with a Loyalty Award honoring this long time and fruitful partnership.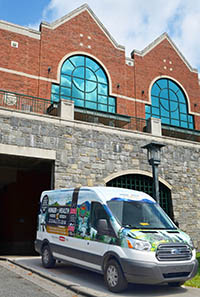 "Having Food Services as partners has been absolutely integral to our operations," said Elizabeth Young, Executive Director of the Hunger and Health Coalition. "Without being able to glean these items, the capacity of our Food Recovery Kitchen would be cut in half. Because of this amazing repurposing of food, we are able to provide nutritious take home meals for our clients who are often working multiple jobs while caring for their families."

In 12 years of the food recovery program, Food Services has donated 159,168 meals.

"We strive to be excellent stewards of our resources by closely estimating our product needs," Pam Cline, Director of Food Services said. "But, we cannot eliminate all food waste, which is what makes this partnership so advantageous and rewarding. At the end of each meal time we are able to pack up what we can't keep and provide resources for community members experiencing food insecurity."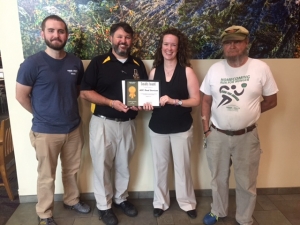 Tags: