Now available...
Fire Side Pizza now has Gluten Friendly Pizza Crust available by request.
Enjoy a 10" Gluten Friendly Crust on its own pan customized with your choice of one topping. Please ask your server!
$7.99 plus tax!
Wait time is approximately 6 minutes. While supplies last. Additional toppings are an extra charge.
Please note that the Gluten Friendly Pizza is cooked in the same oven as traditional pizza. We cannot guarantee against cross contact.
To learn more about Gluten Friendly dining at Appstate, please visit our Gluten Friendly Resources page.
Posted October 3, 2014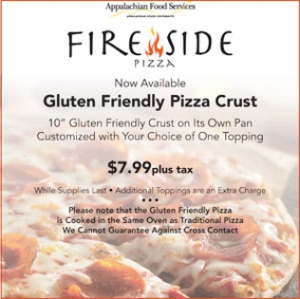 Tags: