With help from the Office of Sustainability, the University Bookstore and University Communications, Appalachian Food Services has recently sourced new employee hats made from recycled plastic bottles from Renew Merchandise.
Renew Merchandise uses a simple process to turn post-consumer plastic bottles into custom merchandise:
Renew collects and sorts post-consumer plastic bottles.
The plastic is washed, broken down and turned into Renew Fibers at local certified recycling centers.
Renew extracts the raw material from the plastic and turns the waste into pellets, which can be spun into yarn to make fabric.
Renew Fibers are weaved into yarn using less water and one-third less energy with very little waste in production compared to virgin fiber processes. The yarn is turned into fabric and used to make merchandise.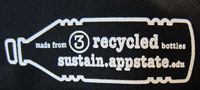 Each new hat was made from 3 recycled plastic bottles; Jim Fleri, an Illustrator with University Communications, designed the logo (pictured right) that appears on the side of each hat with that information.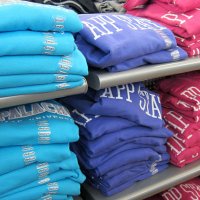 The University Bookstore was instrumental in sourcing these hats. In fact, the Bookstore carries a large selection of goods and merchandise made from recycled materials, including paper, apparel (pictured left) and graduation regalia. While these hats are the first purchase from Renew Merchandise, University Bookstore Director Lorraine Childers plans to add a Renew Merchandise fixture in the near future.
"In the future, we hope to collect plastic bottles used on campus for Renew," said Childers. "This would create a closed circle from plastic bottle to Bookstore merchandise."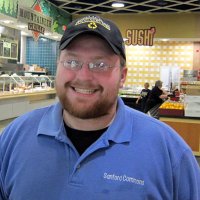 Food Services employees really like the new hats, finding the recycled material to be very cool and comfortable in the hot kitchens, serving lines and dishrooms.
"These hats are very cool and a great relief in the hot dishroom," shared Patrick Eller (pictured right),a dishwasher in Sanford Commons. "They also fit much better than the other ones."
Because these new hats are all the rage with Food Services employees, we look forward to a continued relationship with Renew Merchandise.
Posted October 28, 2015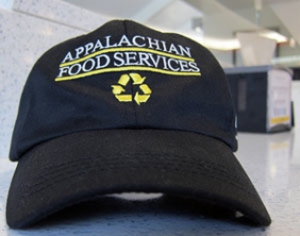 Tags: