In the 2016-17 academic year 21.27 percent of the food purchased by Appalachian Food Services was local. This is an increase from 20 percent in the 2015-16 academic year.
The increase is due, in part, to the Always Local and Sustainable List of food, a list of ingredients and food items that are always local, organic or sustainably sourced for Food Services. Items added to the list this past year include
Cross Valley Farms salads
Del Pasado jalapeno peppers
Harvest Value sweet pickle relish
Rykoff Sexton/ Bungee canola frying oil
Fieldale Farms Chicken
Metro Deli turkey
Pilgrim's Pride Chicken
Food Services is dedicated to purchasing locally in an effort to contribute to local economies, and decrease the environmental impact of the dining hall's food supply chain. This is also a part of Appalachian State University's tradition of sustainability by being active stewards of financial, cultural and natural resources.
Food Services defines local as Appalachian Grown ™ products, Got to Be NC products, products produced within North Carolina, regional products grown and products within 250 miles of Appalachian State University, and third-party certified products.
For hyper-local food purchasing, Food Services partners with New Appalachia, a locally-owned company that supplies local food system buyers with local produce through partnerships with family-operated farms in Southern Appalachia. Food Services also works with regular food suppliers to choose produce, meats and dry goods that come from our defined local area.
Food Services celebrates local food with events like Carolina Chowdown, where all-local menus are carefully crafted to highlight local products once a semester.
To learn more about our local food purchasing and sustainable practices, attend one of our Behind the Scenes Tours. For notifications on local meal events, sign up for the Food Services annoucement group.
Food Services is self-operated, making it local in every sense of the word. Food Services employs a local staff, and all sales and excess funds benefit the local economy and the university. To further these efforts, Food Services partners with the Office of Sustainability to identify future opportunities, fulfill Appalachian's strategic plan and be a leader of sustainable campuses nationally.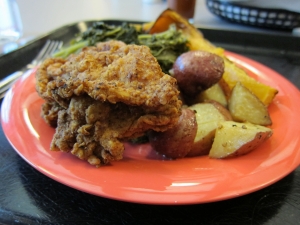 Tags: