Appalachian State University leads in creating a world where environmental, societal and economic qualities exist in balance to meet the resource needs of today and future generations. Food Services is no exception.
Over the past month, Food Services has been busy transitioning to more sustainable operations in small but impactful ways.
Paper Towel Dispensers
Food Services has installed new automatic paper towel dispensers from enMotion ®. These dispensers decrease paper towel usage, and help curb paper waste. The dispensers are supplied with paper towels that are CPG (comprehensive procurement guideline) certified, which is part of the EPA's sustainable materials management initiative that promotes a system approach to reducing materials use and the associated environmental impacts over the materials' entire lift cycle.
The towels are also Green Seal certified due to the chlorine free processing, energy and water efficiency, and content of 100 percent recovered materials with a minimum of 50 percent post-consumer material.
Green Seal certified products address the primary life cycle issues for sanitary paper products from product performance, raw materials, manufacturing, packaging and use. Green Seal identifies products and services that are environmentally responsible.
Soap Dispensers
New soap dispensers have been installed in phases, making sure all of Food Services' existing soap supply was used up before completing the transition. Food Service's new Nexa ™ dispensers from Eco Lab feature re-usable soap cartridges, which replace disposable soap containers used in the past. This will reduce the amount of plastic waste used in our soap re-filling processes. And, the new soap systems use 99 percent of the product, further reducing waste.
Coreless toilet paper rolls
Finally, in the coming days, Food Services bathrooms will feature coreless toilet paper. These rolls are also Green Seal certified, and do not have a roll of cardboard at the center. This allows for 100 percent of the roll to be used and eliminates waste. The rolls are made with at least 25 percent post-consumer recycled fiber and meets EPA Comprehensive Procurement Guidelines.
Food Services is committed to being a sustainable operation and working toward the university's goal of becoming a zero waste campus. These changes will not only decrease the amount of waste generated by bathroom maintenance, but also at handwashing stations located in numerous locations throughout Food Services kitchens.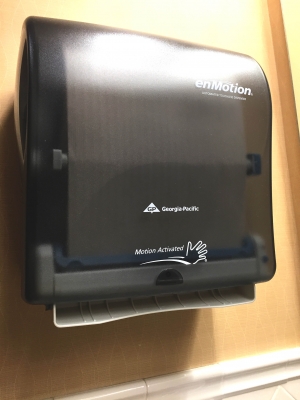 Tags: