Have you noticed our new napkin dispensers?
This year we replaced our napkin baskets with new dispensers. These do not just look nice but are also more sustainable and hygienic!
Here are a couple of reasons why these are great:
They are more hygienic than the baskets. The dispensers ensure that each person only touches and takes the napkins he or she will use.
Each side displays interesting information. Read all about Appalachian Food Services' history, our sustainability initiatives and our Local Appetite partner farms while you eat.
Most importantly, these napkin dispensers are much more sustainable!
Signage on the dispensers asks diners to think before taking, reminding them that napkins come from trees. Because the napkins are dispensed one by one, diners are easily able to take only what is needed instead of grabbing a handful of napkins as many did from the baskets. These dispensers have been shown to reduce napkin usage by up to 25%!
We are already seeing a decrease in usage as well as in the quantity of unused napkins that must be thrown away. The napkin baskets were prone to accidents or gusts of wind, and any napkins subsequently scattered near and far had to be disposed of. The new dispensers eliminate this problem. And, did we mention that the new napkins are made from 100% recycled material!
Check out our new napkin dispensers the next time you are in one of our dining rooms. Who knew that such a small change could have so many positive benefits!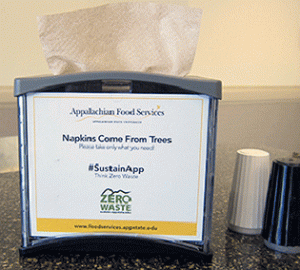 Tags: