As you gather with close friends and family, Campus Dining has created a special menu featuring chef-inspired creations and classic tastes of fall! The meal kits are prepackaged by Campus Dining's team with heating instructions to prepare at your convenience or may be ordered hot and ready.
Know a family in need? Order one for them, too!
FRIENDSGIVING MENU
Hand Carved, Apple Cider Brined NC Turkey (L)(GF)
Sausage & Cornbread Stuffing (L)
Roasted Orange Cranberry Sauce (V+)
House Baked Yeast Roll (V)
Home-style Mashed Potatoes (GF)(V)
Candied Yams (V)
Green Bean Casserole (V)
Mac & Cheese (V)
Pumpkin Pie (V)
ORDERING & PRICING
You can place an order by emailing krennll@appstate.edu or calling 828-262-7968. Orders must be received by Friday, November 20 at 5pm. Pickup is available any day beginning November 1st, and the last day to pick-up orders will be November 24th. Pick-up is scheduled at the time of ordering. If you would like your order hot and ready, please let us know when you place the order.
The menu is $59.94 for a party of six, and orders can be paid for via debit or credit card or AppCard. A la carte pricing is also available for parties of 10 or more.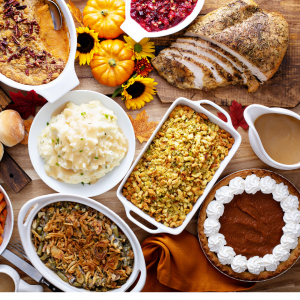 Tags: