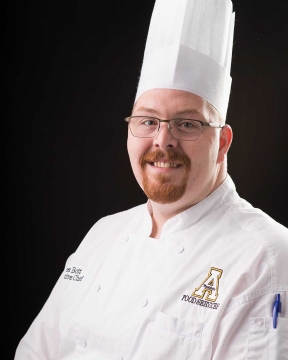 Unit:
Campus Dining Administration
Team Member since 2018
Chef Jules loves to engage in life, in and outside of the kitchen.
He is constantly seeking knowledge and experience, and wants to know where his food comes from physically and culturally. He loves to take ingredients through the whole process from field to plate, getting to know his cooks, purveyors, farmers, and fishermen.
Chef Jules loves living in the High Country, where he can garden with his wife Lisa, and their five children. When he isn't in the kitchen, he enjoys spending time hunting, fishing, hiking, and learning more about history and life around him.