Sustainability
Zero Waste Initiatives
We are committed to Zero Waste initiatives through thoughtful purchasing decisions, reducing consumption and increasing recycling to drastically reduce what we send to the landfill.
100+ tons of pre-consumer organic material is composted yearly, including compostable single-use items

40% of university waste is divested from landfills through reduction, recycling and composting

Unserved food at App State is donated to Hunger and Health Coalition

No plastic foam – using more sustainable takeaway containers and avoiding single-use cutlery

Campus Dining uniforms are made from recycled plastic bottles

The recycled aluminum spoon sculpture by artist Joe Bigley that hangs in Roess Dining Hall is made from aluminum foil and pans used in dining concepts during the 2011–12 academic year
ReUsePass
ReUsePass is a sustainability program, introduced in fall 2023, that lets diners check out and return reusable to-go containers, reducing resource consumption and diverting single-use containers from landfills.
ReusePass makes checking out a reusable container as easy as checking out a library book! Each ReusePass user and container have a unique QR code. When you're checking out a container, dining operators will scan your ReusePass QR and the container QR code, which starts your rental window. Like library books, all containers have a due date. Use your mobile number to access your ReusePass account, keep track of your containers, see return bin locations, and celebrate your positive planetary impact! In the first two weeks of the program, Mountaineers were able to:
avoid over 328 pounds of waste
save over 2,500 gallons of water
prevented 4,038 single-use containers from entering landfills
Local and Sustainable Dining
Campus Dining sources and uses local, sustainable products in our dining facilities.
In recent years, 27% of food (equivalent of $1 + million) served on campus was sourced locally — often from our own sustainable farm.

App State's Blackburn Vannoy Farm works closely with Campus Dining to plan what will be grown and delivers freshly gathered produce throughout the harvest season
The partnership also includes investments from Campus Dining to build a high-efficiency greenhouse, repair the farm's existing high tunnel, which is used to extend the growing season, and construct a new poultry house.

Expanded offerings of healthy and sustainable plant based and whole food menu items.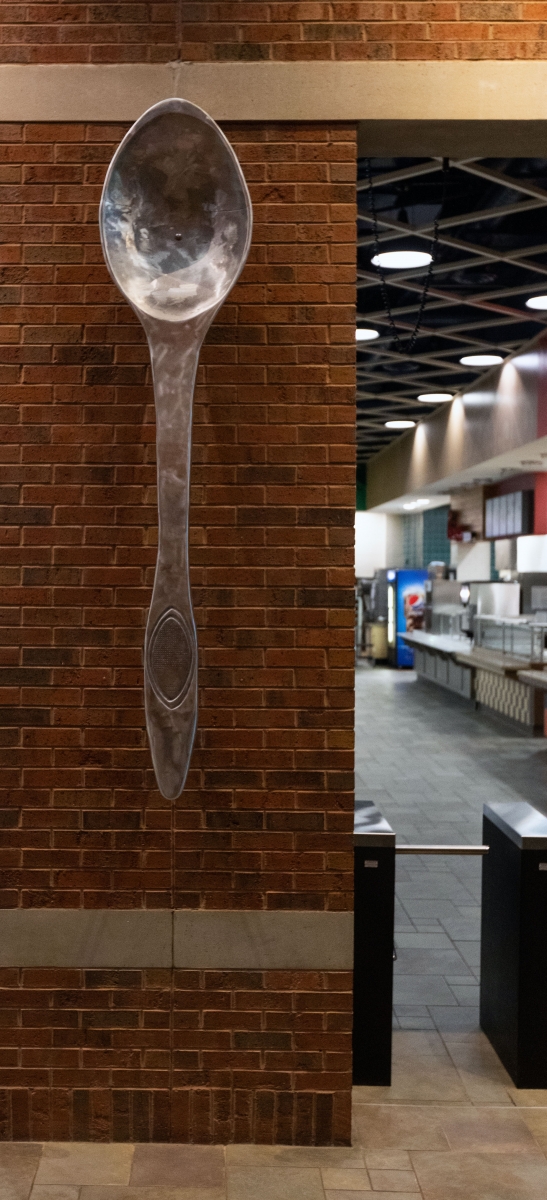 The recycled aluminum spoon sculpture by artist Joe Bigley that hangs in App State's Roess Dining Hall. Photo submitted