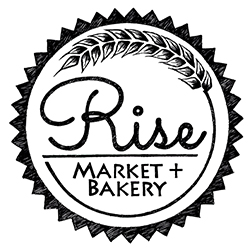 Rise Market + Bakery is closed until further notice.
Our mission is to provide carefully created meals and experiences that enable students, faculty and staff at Leon Levine Hall to rise to the top of their field while supporting local partners through intentional sourcing.
Phone: 828-262-6054
Facebook: https://www.facebook.com/Rise-Market-Bakery-Boone-NC
Menu
Coffee + Coffee Drinks
Coffee and coffee drinks are provided in partnership with Hatchet Coffee Roasters.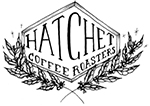 Breakfast (8 - 11 a.m.)
Made to Order Breakfast
Breakfast Sandwich $3.50
Bacon, egg, and swiss on Stickboy brioche
Avocado Toast $3.00
Avocado-spread on toasted Stickboy bread
Breakfast Burrito $3.50
Wheat wrap filled with turkey sausage, scrambled eggs, and cheddar cheese
Veggie Breakfast Bowl or Wrap $3.95
Egg whites, spinach, avocado, fire-roasted red pepper, and herbed goat cheese
Breakfast Banana Boat $3.50
Whole Banana, vanilla yogurt, granola, and wild berries
Hot Irish Oatmeal $3.00
Steel-cut oats with choice of toppings (brown sugar, sunflower butter, sunflower seeds, cranberries, and/or cinnamon)
Grab + Go Breakfast
Hole Lotta Doughnuts and Fritters (L)
Greek Yogurt $1.95
Dannon Yogurt $1.00
Lunch (11 a.m. - 3 p.m.)
Made to Order Lunch
Turkey BLT $6.25
Turkey, bacon, cheddar cheese, spring mix lettuce, tomato, and mayonnaise on Stickyboy multigrain bread
Italian Sub $6.25
Ham, salami, provolone cheese, lettuce, tomato, onion, and red wine vinegar with a dash of olive oil
Hot Ham and Cheese $3.50
Served on a Stickboy brioche bun
Chicken Club Wrap $6.10
Grilled chicken, applewood smoked bacon, cheddar cheese, spinach, ranch on a spinach wrap
Veggie Wrap $5.95
Grilled eggplant, zucchini, red and green peppers with onion, mixed greens, red pepper hummus, and feta cheese in a spinach wrap
Grilled Cheese(V) $4.95
Cheddar cheese melted on Stickboy sourdough
Falafel Pita $6.25
Pita filled with falafel, tzatziki sauce, fresh cucumbers, tomatoes and lettuce
Spicy Beef Panini $6.60
Roast beef, swiss cheese, spicy brown mustard, jalapenos, and onion balsamic jam on a Stickboy fresh hoagie
Grab + Go Lunch
Turkey Protein Salad (GF)
Batter than Basic Salad
Chicken Salad Plate (GF)
Fresh Fruit Dish $3.25
Vegan Wrap $7.30
Turkey and Swiss on Ciabatta $5.95
Ciaabatta Bread with oven-roasted turkey, spring mix, heirloom tomato, shaved red onion, and swiss
Chicken Salad Croissant $6.15
Housemade chicken salad, baby greens, and heirloom tomatoes served on a croissant
Sides
Assorted Chips (V) (GF option)
Housemade Pasta Salad
Potato Salad (V)
Sweet Treats from App Bakery
Made fresh daily from App Bakery
Fresh Baked Cookies (V)
Chocolate chip, sugar, and s'mores
Pastries (V)
Cheese Danish
Chocolate Croissant
Cherry/Apple Turnover
Assorted Stick Boy Scones (L)
Hole Lotta Doughnuts (L)
(V+) Vegan | (V) Vegetarian | (GF) Gluten Friendly | (DF) Dairy Free | (N) Contains Nuts | (L) Local **FOOD-ALLERGIC INDIVIDUALS: Please note that we handle and prepare egg, milk, wheat, shellfish, fish, soy, peanut, tree nut and other potential allergens in our cafes and kitchens. Please inform your server if you have a food allergy and direct questions to a supervisor. For additional information, please visit Nutritional Resources.**