Jamie Isaacs joined the Campus Dining team at App State in April 2018. After working in food service positions with various companies, she found a welcoming opportunity at App State. Her kind nature, bright smile and contagious enthusiasm are enjoyed by students, coworkers and visitors alike. We are thankful for her positive contributions to Rivers Street Cafe and our community. She truly is a shining star!
Jamie was born with a genetic disorder that affects the duplication of chromosomes. Her family was told that it was unlikely she would be able to speak or function adequately. While Jamie has clearly defied expectations, she still faces challenges. She has been diagnosed with autism spectrum disorder and she often has to work twice as hard as neurotypical people.
Jamie is a night shift greeter at Rivers Street Cafe in Roess Dining Hall and her daily goal is to inspire patience and positivity. With a position that can get overwhelming during peak dining hours, Jamie has learned how to self-regulate and manage the tasks at hand to the best of her ability. She has learned from past work experiences that challenging yourself and avoiding complacency plays a big role in job satisfaction and overall happiness.

Jamie has also learned that "in order to be a winner, you have to learn how to lose," she shared. She believes that when you fail, there is something valuable to be learned from the experience that can help you be successful in future endeavors.
Jamie is a committed member of our Campus Dining team and it's obvious that she loves her job. Jamie takes pride in setting a positive foundation for guests' dining experience. She excels at greeting our guests with a smile and is sure to remind each of us to "have a great day."

She believes having a little fun can go a long way, too; dad jokes are her favorite way to liven up the atmosphere. She has quite the collection of good jokes to share and loves to make her audience laugh.
Jamie wants people to know that what matters most is what you make of your circumstances, rather than the circumstance itself. We are listening, Jamie — and we are grateful to you!
Fun Facts about Jamie Isaacs:
What's your favorite meal to eat at Rivers Street Cafe?
"Sweet tea-infused broiled pork loin. I'm a picky eater, but I like to try new things."
Do you like to cook? What do you like to cook?
"I'm not great at cooking, so I would have to say chocolate milk."
Favorite joke?
"What did Michael Jackson say when he wanted to start a fight? You wanna be startin' somethin'?"
All-time favorite movie?
"'The Mummy' series is probably my favorite."
How do you like to spend your free time?
"Lately I have really been enjoying watching movies with my dog Bailey."
Cook? Order in? Or eat out?
"I would prefer to order delivery. I love Pizza Hut."
If you were stranded on a desert island with a coworker, who would you want it to be?
"It would probably be like an episode of 'Gilligan's Island', but I think I would like to be stranded with any of the student workers. We are very different; I have a lot to learn from them and I'm sure they can learn from me too."
Written by Caeleigh McGuire
Edited by University Communications Staff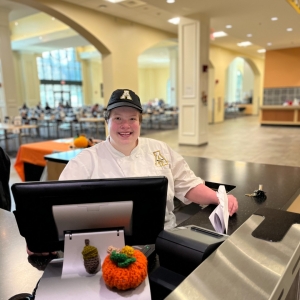 Tags: