Rob Kinneen is an Alaska born-and-raised chef, recognized by his peers and fans as the authority on Alaska regional cuisine. Chef Rob has worked across Alaska and the country, promoting Alaska "indigenized" cuisine through guest chef appearances, speaking engagements, cooking demonstrations and private catering.
He has been featured on the TODAY show with Al Roker, cooking spot shrimp fresh rolls and spruce tip marinated elk skewers, and has cooked for legendary Chefs Jacques Pepin and Lidia Bastianich. In 2015, he was hand selected to cook a five-course meal for US President Barack Obama, featuring Alaska produce, fish and wild game.
A graduate of the Culinary Institute of America, Rob began his cooking career at NOLA in New Orleans which he followed with chef positions at several esteemed restaurants in North Carolina, and stagings at Chicago's Frontera Grill and Lupa in New York City. It was during this time that Rob established his philosophies of sourcing products locally and seasonally.
Rob's career took off when he moved back to Alaska, maintaining AAA Four Diamond ratings as Chef of the Seven Glaciers restaurant at the Alyeska Resort and as Chef de Cuisine at the Crow's Nest atop the Hotel Captain Cook. With his own venture, Noble's Diner, and as the Executive Chef of ORSO, Rob established a reputation for his loyalty to Alaskan product and community involvement. This led to local, state and national reviews, speaking engagements, and the honor of representing Alaska in the 2008 Great American Seafood Cookoff in New Orleans.
Rob has cooked in culture camps across Alaska, from Barrow (muktuk sushi) to Bethel (Smelt with salsa) to Tyonek (foraged beach peas) to Sitka (rockfish fried rice w/foraged greens). His FRESH ALASKA webisode series has 60,000 hits showing people the beauty of Alaska and cooking with fresh ingredients, both indigenous and available at your local farmers market. Rob has contributed to cookbooks Pacific Feast by Jennifer Hahn and Wild Alaskan Seafood by James Fraioli. His latest project is the release of his first cookbook, Fresh Alaska Cookbook, a compilation of recipes, artisan profiles and stories of living in the Last Frontier.
In 2016, he relocated to Durham, North Carolina where he is the executive chef of the Refectory Café, in Durham, NC. To learn more about him please visit: https://kinneen.com/about/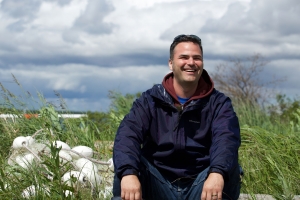 Tags: